Walk into any land-based casino – or enter an online casino – and you'll be faced with tons of different card games to play. However, not all casino table games using cards are created equal – and on this page, we're going to be looking at the most popular casino card games, as well as the best ones to play, according to the math!
The Most Popular Casino Card Games
What Are The Best Casino Card Games?
Baccarat
Blackjack
Pai Gow Poker
Ultimate Texas Hold'em
Casino War
Let It Ride
Frequently Asked Questions
Most Popular Casino Card Games
When it comes to the most popular casino card games, blackjack or baccarat will win pretty much every time. These casino table games are found at virtually every online and offline casino in the world – and they're easy-to-play, fun – and can offer decent win potential. However, are these casino games the best casino card games? Let's find out.
The Best Casino Card Games
When it comes to naming the best casino card games, there are several factors to take into account. Firstly, we need to look at the game's house edge. This is a percentage that determines the amount of money that a casino can expect to make from a game over a lengthy period of time. The higher the house edge, the more money a casino can expect to make from a game.
House edge isn't the only thing to look at when determining the best casino card games, but it's the most important. That's why we've focused on it on this page. Below, we're going to show you the best gambling card games in terms of house edge.
Baccarat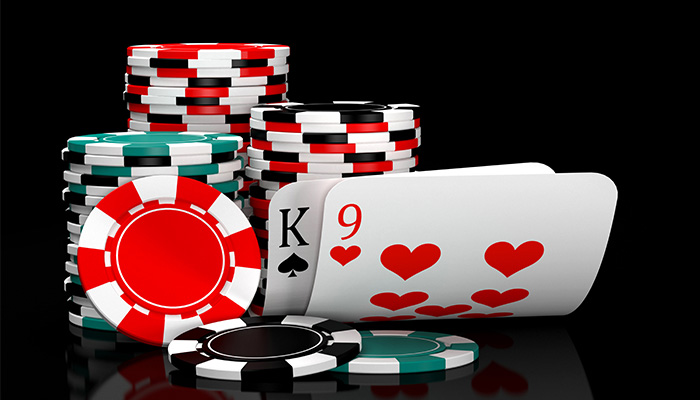 Baccarat is one of the best casino card games you can play in a casino – and it's a favorite among high-stakes players thanks to its low house edge, the simplicity of playing, and the relatively steady returns. Baccarat is played between the player and the dealer, and there are just three betting options: player, banker, or tie.
The objective of baccarat is to form a hand as close as possible to nine points. As a player, you can bet on either the Player or Banker hand, or you can bet on a tie – although this is a poor bet and should be avoided. Once all bets have been placed, both sides are dealt two cards.
While baccarat rules can vary slightly, generally speaking, all tens and face cards count as zero points, while an ace counts as one point. The remaining cards are worth their face value – so a 7, for example, is worth seven points. If the total exceeds 9, only the second digit is counted. So, for example, 15 points would actually be 5 points.
Once any additional cards have been drawn, which is something dictated by the rules, the two hands are compared against one another, and if you bet on the winning hand, you're paid a prize. If you play at the top casino baccarat websites, you will find games with high RTPs and plenty of bonus features.
Blackjack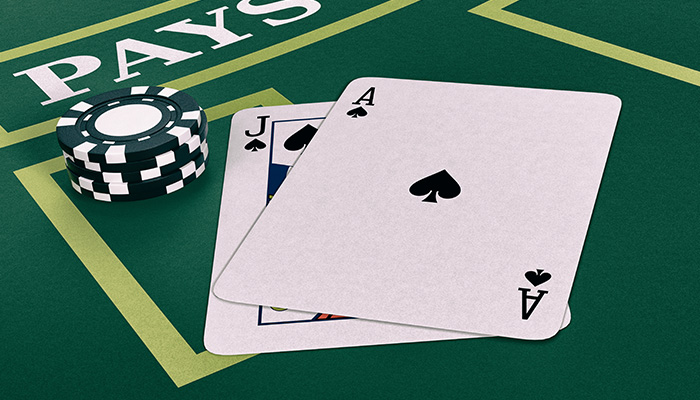 When it comes to the most popular gambling card games, blackjack is arguably the number one game – it's almost unheard of to find land-based or online casinos not offering blackjack. It's very easy to play and offers a really low house edge when optimal strategy is played. Check out our guide on the best online blackjack sites if you want to play blackjack online!
Blackjack is played between you and the dealer. The objective is to form a hand as close to 21 as possible, without going over 21. Once your initial two cards have been dealt, you can either stand – meaning you don't want to take any more cards – or you can hit, which will result in you receiving another card. There are also a few other options you can use in certain situations, such as splitting and surrendering.
You can draw as many cards as you want provided your hand total doesn't go over 21. Once the action has finished, your hand will be compared against that of the dealer, and the hand closest to 21 wins – it's that simple!
One of the main reasons why blackjack is one of the best casino card games is that the house edge is lower than 1 percent when optimal strategy is used. Some blackjack players even manage to use a strategy called counting cards to put the odds in their favor – although most casinos now use various methods to prevent this from happening.
Pai Gow Poker
Pai Gow Poker is one of the most popular casino card games, and it's based on Pai Gow, an ancient Chinese game played using tiles. The goal of Pai Gow Poker is for you to make the best five-card hand and two-card hand. Seven cards are dealt, and while there's a bit of a learning curve involved at the beginning, once you get the hang of it, it's a lot of fun to play.
Pai Gow Poker isn't available at all land-based casinos – but online casinos commonly offer it. It's a great game to play, as the house edge can be as low as 1.46 percent, if you stick to optimal playing strategy.
It's basically a player-versus-dealer version of poker – with the exception that you need to form two hands rather than just one. If you find the game confusing, then don't worry, as when you play Pai Gow Poker online, you can use a "best strategy" button that makes the best possible move for you.
Ultimate Texas Hold'em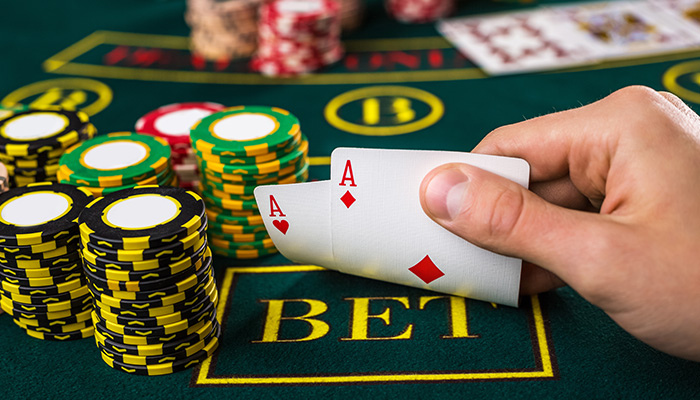 Ultimate Texas Hold 'em is a casino table game that's heavily inspired by Texas Hold 'em poker. However, like Pai Gow Poker, you're playing against the dealer rather than other players. To begin, all players need to place Ante and Blind bets. There is usually a wide variety of side bets available, too. The game round begins, and you will be dealt two hold cards.
If you like your hand, you can then opt to place a "Play" bet, or you can choose to check. Three community cards are then dealt onto the table. Those who previously checked can now make a bet if they want, or they can check, before fourth and fifth cards are drawn. There's then one more betting round, for those who have yet to place a bet. As you can see, it closely resembles standard Texas Hold 'em and it's a lot of fun to play.
Ultimate Texas Hold 'em can offer a house edge of just 2.19 percent, making it one of the best casino card games you can play. If you prefer other poker games, then check out our guide to the best online poker games where you might find what you are looking for.
Casino War
Casino War is one of the easiest casino games on this page to play. You simply make a bet before one card is dealt to you and one is dealt to the dealer. Whoever is dealt the highest card is crowned the winner.
If you and the dealer both draw the same card, you are given the option of going to war. You will be required to double your initial bet and the dealer will then burn three cards. You are then both dealt one more card and whoever's card is higher wins!
It's an easy game to learn, and if you chose to always go to war, the house edge of this casino table game is just 2.88 percent – making it one of the best casino card games you'll find!
Let It Ride
Let It Ride is another poker-inspired casino card game, and while its house edge is a bit higher than what you'll find in blackjack or baccarat, it's still decent, as optimal play results in a house edge of 3.51 percent.
The game is simple – and it's not played against the dealer. Instead, you must place three equal-sized bets. You will then be dealt three cards, face-up, and if you don't like your cards, you can take back your first bet – surrendering the other two and ending the hand.
If you'd like to continue with the hand, you must place a fourth bet – and a community card is then dealt for all players at the table. This continues until three community cards are dealt, and, at the end, if you hold a pair of 10s or better, you'll win!
There are also some other popular casino card games to look at for, but which are played on video machines, instead of with a live dealer. Check out some of them below.
| GAME | HOUSE EDGE |
| --- | --- |
| Player-Versus-Player Poker | Varies based on skill, luck, and opponents |
| Video Poker | As low as 0.46 percent |
| Three Card Poker | 3.37 percent |
| Caribbean Stud Poker | 5.22 percent |
Frequently Asked Questions
Hopefully you now have a better idea about the best casino card games to play. Below, we're going to answer some additional questions our readers may have.
What casino card game has the lowest house edge?
This depends on your playing strategy – and the table rules. However, blackjack is usually considered to have the lowest house edge. The reason it's not number one on this list is that there are so many variables that can affect the house edge.
Which makes a great casino card game?
Many factors must be considered when deciding on the best casino card game, including the house edge, how enjoyable it is, and how much money you can win.
What's the house edge in Pai Gow Poker?
Pai Gow Poker, when played with optimal playing strategy, offers a house edge of just 1.46 percent. This makes it one of the best casino card games you'll find in a casino – and it's also a lot of fun to play, too!
What's is the house edge in baccarat?
Baccarat has a really low house edge – and it's also incredibly easy to play, hence its number one position on this page. If you play with an optimal strategy, the house edge can be just 1.06 percent!
How do you play Casino War?
Casino War is very easy to play. You simply place a bet, and you and the dealer are dealt one card each. Whoever has the highest card wins – unless you both have the same card, in which case you go to war, which sees you doubling your bet and redrawing the two cards.
https://www.minesgames.com/
https://www.luckycola.asia/?referral=gg06908