Underground casinos are becoming less common, but they can still pose a risk to players. An underground casino is a non-licensed gambling operation – usually land-based – that often attracts crime and is frequently involved in money laundering, illicit drug activity and hard crime. Learn more about underground gambling in this post.
What Is Underground Gambling?
An underground casino is an illegal gambling establishment that operates secretly or outside the law. These types of casinos are often hidden in private homes, warehouses, or other discreet locations and do not have legal licenses to operate. They may also have fewer safety regulations in place, leading to potential risks for patrons.
On this page, we're going to show you what an underground casino is and look at some of the illegal gambling operations that got busted by police.
Is Underground Gambling Illegal Gambling?
Yes, underground casinos are typically illegal. In most countries and jurisdictions, gambling is regulated by law and venues require a license to operate legally. Underground casinos operate outside the law and do not have a legal license to offer gambling activities.
As a result, they are illegal and there can be criminal penalties for those who operate and patronize them. It is generally not recommended to patronize underground casinos, as they can pose significant legal and personal safety risks.
While it's rare for patrons to get arrested as the result of a "bust", underground casinos can be very dangerous; what might seem like a friendly poker game can soon turn violent – and the lack of regulatory oversight means there's rarely any help at hand if you get yourself into a sticky spot.
Notable Underground Casinos
Underground casinos and gambling dens are frequently raided by police – and almost all cases are involved, somehow, with crime, drugs, and violence. However, it's not everyday news – so let's take a look at some of the biggest busts in recent history.
20,000 Sq Ft Mansion in Canada
A couple of years ago, police in Canada made global news after raiding a massive 20,000 square foot mansion. Situated on a two-acre property in Markham, York, the gigantic home looked like something from a fairy tale.
Unfortunately, the reality couldn't have been further from the truth; police claim that the property's basement was home to an illegal gambling den, packed with full-size video slots, casino table games, and video poker.
While full details of the case are yet to emerge, police have already charged six people – and they claim to have seized more than CA$10 million in cash, alcohol, firearms, and assets.
Unfortunately, investigators also found significant quantities of shark fins in the property. Used to make the controversial shark fin soup, it appears that the crooks running the underground casino were also involved in the smuggling trade – and only time will reveal whether additional charges will be brought against those involved.
Shopping Center in Kyiv
Illegal gambling isn't restricted to US territory; our next case comes from Kyiv, Ukraine, and took place back in 2019. According to police reports, some 30 gamblers were playing casino games in an underground casino – and this casino was located right in the heart of Kyiv, the capital of Ukraine!
Interestingly, the casino was hidden inside a shopping center and office block – and it was open to VIPs only. According to local reports, there was even a secret elevator that was operated by a special magnetic key – and this was the only way for gamblers to enter the underground casino.
While raiding the property, police claim they seized hundreds of thousands of dollars' worth of gaming equipment. They also seized weapons, ammunition, and cash. As you can see, we weren't joking when we said that violence and crime frequently accompany illegal gambling.
US Strip Mall
Back to US soil, our next case took place in a strip mall in San Diego. This clothes store sold a lot more than trendy garments – and, positioned next to a hipster-like coffee shop, locals are said to have been astounded when they learned the truth about "KT Alterations & Gifts." But the truth was this front was being used as the headquarters for an illegal gambling operation.
Acting on a tip-off, local law enforcement raided the property back in October 2020, and they found tons of evidence. This included gaming machines, full accounting books detailing the venue's illegal activity, as well as drugs and drug paraphernalia.
Police also seized $1,700 in cash – which doesn't seem like much. However, the investigation is still ongoing, so we may not learn the full details about the underground gambling operation until the defendants are given their day in court.
San Diego hasn't historically been known as a hotspot for illegal gambling. However, underground casinos started to appear during COVID – when land-based casinos were shut – and it appears that some of these dens remain open. Sports betting is also illegal in California, which is why many of the underground gambling establishments also offer sports betting.
London's Backstreets
London has been home to an underground gambling scene for centuries, and despite a large number of legal land-based casinos, many punters choose to spend their money at these illegal establishments – likely in a way to avoid authorities looking at their spending habits.
In 2016, a barbershop in Hackney was raided by the Met police; it turns out that a small door in the back of the shop led to a high-stakes poker room, and players were frequently seen sitting with more than $10,000 worth of chips.
It's unclear what action police took – and, aside from the initial news reports, little can be found about the incident. However, it's certainly nothing new for the UK – and illegal gambling establishments will likely continue to operate for years to come.
Why to Avoid Underground Casinos
You should never go to underground casinos; they're crime hotspots, and underground poker and casino operations are often run by dangerous criminals. Below, we'll look at some of the main reasons why you should steer clear of underground gambling establishments at all costs.
| REASON | DESCRIPTION |
| --- | --- |
| Legal Consequences | Participating in illegal gambling activities can lead to criminal charges and fines. Even if you are just a patron of an underground casino, you could potentially face legal consequences. |
| Personal Safety Risks | Underground casinos may not have the same safety regulations as legal, licensed casinos. This can put you at risk of injury or violence, as these establishments may attract organized crime and other dangerous individuals. |
| Lack of Transparency | Underground casinos may not follow fair gaming practices and may not be transparent about the odds or payouts. This means you could potentially lose more money than you expect or be cheated out of winnings. |
| Involvement in Crime | Underground casinos may be involved in money laundering, illegal drug activity, and other illegal activities. By patronizing an underground casino, you could potentially be supporting and indirectly participating in these activities. |
| Reputation Risks | Being associated with illegal gambling activities can damage your reputation and put you at risk of professional and personal consequences. |
In short, if you want to gamble, it is safer and more advisable to visit a legally licensed and regulated casino. The same can be said for online casinos, always make sure that you gamble at legal online casinos in the US.
Home Poker Games and the Law
The legality of home poker games can vary depending on the jurisdiction in which they are held. In some places, home poker games are legal as long as they meet certain conditions. In other places, they may be illegal regardless of the circumstances.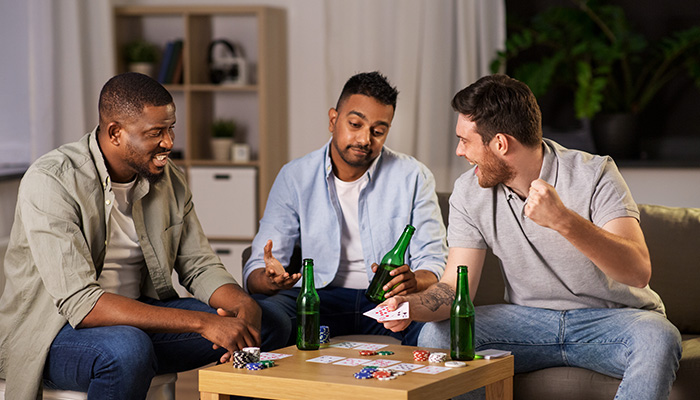 In general, home poker games are legal as long as they meet the following criteria:
The game is considered "social gambling," meaning it is not conducted as a business and no one is profiting from hosting the game.
The game is not open to the public. It is only open to a small, closed group of people who are personally invited by the host.
No one at the game is under the age of 18.
No one at the game is using illegal drugs.
If a home poker game meets these criteria, it is generally considered legal. However, it is important to note that the specific laws and regulations regarding home poker games can vary from one jurisdiction to another. In some places, home poker games may be illegal regardless of whether they meet the above criteria.
It is always a good idea to familiarize yourself with the laws and regulations in your area before hosting or participating in a home poker game. While it is generally safe to assume that a small, social home poker game is legal, it is always better to be informed and avoid any potential legal issues. If you live in one of the states that allow for legal online poker sites, then you can also enjoy the best poker games from the comfort of your own home.
Common Questions About Underground Casinos
Thankfully, there are thousands of legitimate, safe land-based casinos and online casinos to choose from, so you don't have to turn to underground joints, like punters were forced to do in the past. Below, we're going to answer some common questions from players wanting to learn more about underground casinos.
Is it legal to gamble online?
This depends entirely on the state you live in. For example, you can play at legal casinos in Michigan, while Californians are restricted from placing sports bets online. Thankfully, the US is slowly coming around to the idea of gambling, with more and more states legalizing online gambling in some form.
Where is online gambling legal?
If you'd like to play it safe and stick to gambling online, make sure you play at an online casino licensed in one of the legal online casino states. Without a proper online gambling license, a casino is not allowed to accept US bets
Are underground casinos dangerous?
This depends, not all of the most famous underground casinos are dangerous, however, they can often be dangerous. That's why it's so important to play at legal casinos. Not only will your personal safety be assured, you will also be paid your winnings without any problems.
Is it legal to play poker at home?
In most states, it's actually legal to run real money home games. But you will find that there are various requirements that must be met for the game to be legal.
Do underground casinos have licenses?
No! Underground casinos operate illegally, this means they are not regulated by the correct authorities. As a result, their games aren't audited by a third-party testing house, patrons have virtually zero chance of lodging successful complaints – and the casino doesn't have to answer to anyone, so they can do exactly what they want.
https://www.gemdisco.ph/?referral=tt92427
https://www.luckycola.asia/?referral=gg06908